Want to go Abroad to Teach?

AJ Educational Consulting Ltd. is a Vancouver, Canada based company that provides not only recruiting services for public / private schools, kindergartens, cram schools and language institutes in Taiwan but also verities of ESL related services. Those services include:

- Teaching training program ( TESL Certification )
- ESL materials / books
- Curriculum development
- Summer camps in Canada / Taiwan
- Studying overseas consulting

AJ Educational Consulting Ltd. is there to give advices to educators in Taiwan, at the same time to provide necessary information and assistance for prospective teachers. Our employees at AJ International Consulting Ltd. can act as a communicator for employers who have difficulties to communicate in English. In order to prevent prospective ESL teachers from the culture shocks that they might encounter when they go to Taiwan, our employees also try their best to provide as much information as possible about Taiwan to prospective ESL teachers before they go abroad.

Jiu Fen Night View, Taipei

If you are interested in teaching in Taiwan,
This is a website for you to take a good look at Taiwan.
General Information I Should Know About Taiwan
There are things you need to know/have before you go to Taiwan:

Tourist Information Hot Line
The Hot Line provides a wide range of assistance in English (or other languages as needed) on every aspect of travel in Taiwan. The hot line is operated every day of the year from 8 a.m. to 8 p.m. (Taipei time).
Tel : 1-886-2-717-3737

Customs Information
Personal belongings are duty-free, but stereo sets, TVs, and video recorders must be declared. Each person may bring into the ROC, duty free, one liter of alcoholic beverages, 25 cigars, 200 cigarettes, or one pound of other tobacco products.

Visas
Tourist visas for the Republic of China can be obtained from the ROC Ministry of Foreign Affairs and ROC embassies, consulates, or designated representative offices in foreign countries.

Foreign nationals may obtain a tourist visa to visit the Republic of China for purposes of sightseeing, business, family visits, study or training, medical treatment, or other legitimate activities. Tourist visas may be single- or multiple-entry, and allow stays in the ROC for two weeks to 60 days.

14-day visa-free privileges are afforded to citizens of the United States, Japan, Canada, the United Kingdom, France, Germany, Holland, Belgium, Luxemburg, Australia, New Zealand, Sweden, Spain, and Portugal.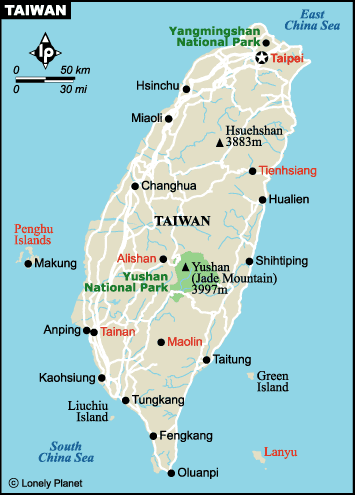 Visa Application

For all the Visa information, please go to:

Taipei Economic and Cultural Office, Vancouver
#2008-925 West Georgia Street, Vancouver,
British Columbia V6C 3L2 Canada
Tel: 1(604)689-4111
Fax: 1(604)689-0101 or 1(604)688-0376
Fax On Demand: 1(604)689-3616

or go to the web site at:
http://www.taiwan-vancouver.org/index_eng.htm

Taipei Economic and Cultural Office